Bob Kane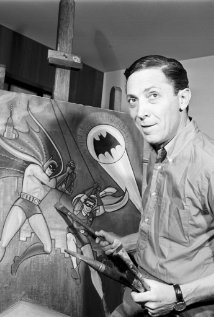 Robert Kahn was born in New York City, New York. His parents, Augusta and Herman Kahn, an engraver, were of Eastern European Jewish descent. A high school friend of fellow cartoonist and future Spirit creator Will Eisner, Robert Kahn graduated from DeWitt Clinton High School and then legally changed his name to Bob Kane.He studied art at Cooper Union before "joining the Max Fleischer Studio as a trainee animator in 1934." He entered the comics field two years later, in 1936, freelancing original material to editor Jerry Iger's comic book Wow, What A Magazine!, including his first pencil and ink work on the serial Hiram Hick. The following year, Kane began to work at Iger's subsequent studio, Eisner & Iger, which was one of the first comic book "packagers" that produced comics on demand for publishers entering the new medium during its late-1930s and 1940s Golden Age. Among his work there was the funny animal feature "Peter Pupp" — which belied its look with overtones of "mystery and menace" — published in the U.K. comic magazine Wags and reprinted in Fiction House's Jumbo comics. Kane also produced work through Eisner & Iger for two of the companies that would later merge to form DC Comics, including the humor features "Ginger Snap" in More Fun Comics, "Oscar the Gumshoe" for Detective Comics, and "Professor Doolittle" for Adventure Comics. For that last title he went on to do his first adventure strip, "Rusty and his Pals".
In early 1939, DC's success with the seminal superhero Superman in Action Comics prompted editors to scramble for more such heroes. In response, Bob Kane conceived "the Bat-Man." Kane said his influences for the character included actor Douglas Fairbanks' movie portrayal of the swashbuckler Zorro, Leonardo da Vinci's diagram of the ornithopter, a flying machine with huge bat-like wings; and the 1930 film The Bat Whispers, based on Mary Rinehart's mystery novel The Circular Staircase. The character debuted in Detective Comics #27 (May 1939) and proved a breakout hit. In 1943, Kane left the Batman comic books to focus on penciling the daily Batman newspaper comic strip.
In 1966, Kane retired from DC Comics, choosing to focus on fine art. As Kane's comic-book work tapered off in the 1960s, he parlayed his Batman status into minor celebrity. He enjoyed a post-comics career in TV animation, creating the characters Courageous Cat and Cool McCool, and as a painter showed his work in art galleries, although some of these paintings were produced by ghost artists. DC Comics named Kane in 1985 as one of the honorees in the company's 50th anniversary publication Fifty Who Made DC Great. In 1989, Kane published the autobiography Batman and Me, with a second volume Batman and Me, The Saga Continues, in 1996. Kane worked as a consultant on the 1989 movie Batman and its three sequels with directors Tim Burton and Joel Schumacher.
Kane died on November 3, 1998, from natural causes, leaving behind his wife, Elizabeth Sanders (Kane), an actress who appeared in three Batman films; and daughter Deborah Majeski.
Sorry, there are currently no items available for this selection.
Please contact a Barker Animation associate for additional assistance.