Gary Shipman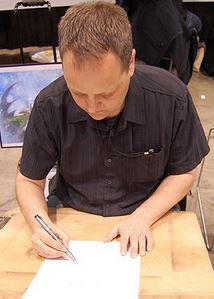 Shipman, with wife Rhoda Shipman, created the independently produced comic book series Pakkins' Land, both plotting out the stories together and Gary scripting, lettering, penciling, and inking the illustrations for the series. Pakkins' Land tells the adventuresome and engaging tale of Paul, a young boy who finds himself in a magical world filled with talking animals, mystery and excitement. Pakkins' Land has been heralded for excellence by both critics and peers alike, accumulating an international following and numerous award nominations.Shipman's artistic talents can also be found elsewhere. In 1987, he co-created the superhero character Edge for Silverwolf Comics, and illustrated the first 3 issues of that series. In 1997, Shipman illustrated the cover of Issue # 19 of the comic series OZ, based on the books and characters of L. Frank Baum. In 1998, Shipman illustrated the cover of Parables & Proverbs published by New Creation Publications, in 2003, Shipman illustrated Amazing True Life Stories Issue # 2: Spymaster for Crosswind Comics, in 2011, Shipman was invited to join the DreamWorks Animation Fine Art program, with his first offering being an interpretative piece based on How To Train Your Dragon, made available as the original painting or as prints. Released in 2013, Shipman was a contributing artist in the DC Comics Batman: The Legend trading cards produced by Cryptozoic Entertainment.
Sorry, there are currently no items available for this selection.
Please contact a Barker Animation associate for additional assistance.