Graham Nolan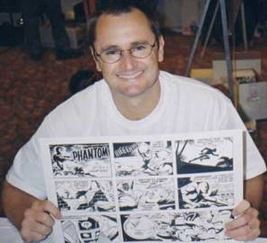 Graham Nolan, born 12 March 1962, is a comic book artist, best known for work for DC Comics on Batman-related titles in the 1990s and his work on The Phantom Sunday strip. His first comics credit came in April 1985, when his work appeared in DC Comics' Talent Showcase #16, alongside Eric Shanower and Stan Woch (among others). Moving on to issues of the UK Transformers comic, in 1988 he started a 12-issue run on DC's Power of the Atom comic. In June 1990, he launched John Ostrander and Tim Truman's Hawkworld comic, pencilling it for 26 issues until late 1992. Between 1992 and 1998, he worked on many issues of Detective Comics, illustrating key parts of the KnightFall and KnightsEnd sagas featuring Azrael and Batman. Graham Nolan also did freelance work for the Dungeons & Dragons game, including The Mines of Bloodstone (1986), Egg of the Phoenix (1987),The Endless Stair (1987), and The Complete Book of Villains (1994).
In 1998 he created and published his own comic strip, Monster Island. When this strip was reprinted as a back-up feature in the Scandinavian The Phantom magazines, Nolan was also asked to provide painted Phantom covers for three issues. This, combined with a Phantom story Nolan and Chuck Dixon had made previously for a trading card series, led to Nolan being offered the job as artist on the Phantom Sunday strip in 2000. Nolan quickly accepted the offer, as the character had been one of his favorites since childhood. By the time he started with The Phantom, he was already the daily and Sunday artist on another newspaper strip, Rex Morgan, M.D..
Sorry, there are currently no items available for this selection.
Please contact a Barker Animation associate for additional assistance.