Mike Peters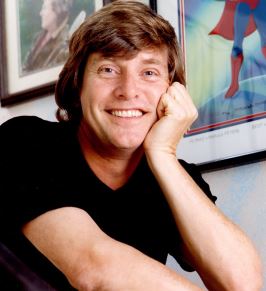 Mike Peters is recognized as one of our nation's most prominent cartoon artists for his outstanding work as both a political and comic strip cartoonist. His favorite expression "WHAT A HOOT" certainly sums up his outlook on his life and work which are inexorably entwined. Mike's warm, easygoing and zany demeanor is evidence that his personality matches his creative talents. As so eloquently phrased by a colleague -- "Mike is the Peter Pan of the cartooning world; he's boyishly charming, good with a rapier and doesn't spend a lot of time on the ground. And he doesn't seem to want to grow up".
Mike has been interested in cartooning, and particularly political cartooning, since childhood. Born October 9, 1943, Mike was educated in his birthplace of St. Louis, MO, where he graduated from Christian Brothers College High School in 1961. In 1965 he was awarded the degree of Bachelor of Fine Arts from Washington University and immediately began his career on the art staff of the Chicago Daily News. The following year he began two years of service with the U.S. Army as an artist for the Seventh Psychological Operations Group in Okinawa. After Vietnam, his mentor, the renowned W.W. II artist Bill Mauldin, helped him find a cartooning position on the Dayton Daily News in 1969. That was the beginning. In 1972, his editorial cartoons became syndicated nationally. In 1981 Mike was awarded a Pulitzer Prize for Journalism and in 1984 the award-winning Mother Goose & Grimm comic strip was born -- all with the help of Marian, his wife, best friend and business partner of 35 years.
Mike's humor appeals to all age groups and all nationalities. His work is syndicated in newspapers worldwide and frequently appears in national publications and on national television. He has become familiar to thousands through his many appearances on shows such as Good Morning America, The Joan Rivers Show, The Today Show, Equal Time, MSNBC, CNNFN and C-SPAN. Peters is also a popular lecturer and makes appearances at editor and publisher conventions, on the college lecture circuit and before political groups. The University of Dayton awarded Mike with an honorary Doctor of Humane Letters Degree in 1998.
Mike's political cartoons, syndicated by King Features Syndicate, appear in over 400 newspapers worldwide. His political work is featured frequently in such publications as Newsweek, Time, U.S. News and World Report, and The New Republic (several of which have also featured him in articles about political cartoonists). Peters is particularly proud of his animated editorial cartoons, "Peters Postscripts" which aired on NBC's Nightly News in 1981. It was the first time animated editorial cartoons appeared regularly on a prime-time network news program. Peters also has done a 14-part interview series, The World of Cartooning with Mike Peters, for PBS.
The Comic Strip Mother Goose & Grimm appears in over 800 newspapers worldwide and consistently places in the top 10 most popular ratings. Licensees distribute Grimmy products all over the world, and the Grimmy TV show continues to air in several countries. Mother Goose & Grimm is included in the Toon Lagoon theme park at Universal Studios that opened in July 1999.