Peter Max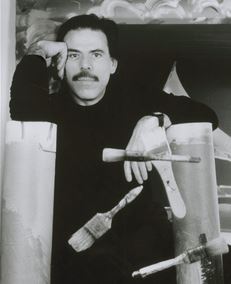 Peter Max was born in 1937 in Berlin, Germany but spent his youth in Shanghai, China. His childhood home was situated between a Buddhist monastery and a Sikh temple. He often watched the Buddhist monks painting Chinese characters on vast sheets of rice paper with large bamboo brushes and at night, he would listen to the beautifully sung prayers of the Sikhs. Shanghai was a colorful, magical place; there were always parades going by with dragons floating in the sky, chimes ringing and gongs echoing. But Peter also listened to American jazz on Shanghai radio and watched first run Hollywood movies over and over again at his friend's father's movie theater. There, in the ancient land of China, Peter Max became more immersed in contemporary American iconography than most children living in the U.S.A. at the time.

Peter's artistic talent was encouraged by his mother, then continued when the family traveled to Haifa, Israel. There, he studied with Austrian expressionist, Professor Honik, who introduced his student to the colorful world of Fauvism. While Peter studied painting, his childhood fascination with astronomy was reawakened. He was so eager to learn about space that his parents enrolled him, at once, in an evening astronomy class. His immense passion for space continues to this day, and celestial elements often appear in his works, especially his art of the late 1960s— a period appropriately coined, "The Cosmic '60s."

Max began his formal art studies in New York at the Art Students League, under the tutelage of Frank Reilly, a realistic painter. After leaving the Art Students League, Max was quickly commissioned to do a painting for a record album cover. The album cover won the annual Society of Illustrators award and many other commissions and awards followed. He advertised his new studio by putting his huge designs on the sides of New York City transit busses in 1969.

Max's signature style of cosmic characters, meticulously painted against bold, vibrant colors, so captured the spirit of the era that Max's art was often cited by journalists and art critics as the visual counterpart to the music of The Beatles. And like the Beatles, Max also made his TV debut on the Ed Sullivan Show. He also appeared on the Tonight Show with Johnny Carson and made the cover of Life Magazine with an eight-page feature cover story.

The environment has played an important role in his art since the late 1960s. He's been the official poster artist for numerous Earth Days, including the very first in 1970, as well as the 10th, 20th and 25th anniversaries. Peter Max has received many important commissions including the creation of the first "Preserve the Environment" Postage Stamp commemorating the World's Fair in Spokane, Washington; 235 Border Murals at entry points to Canada and Mexico commissioned by the U.S. General Services; and a painting of each of the 50 states, resulting in a book, "Peter Max Paints America" in celebration of the Bicentennial. In 1981 he was invited by President and Mrs. Reagan to paint six Liberty portraits at the White House. Max has painted for five U.S. Presidents - Ford, Carter, Reagan, Bush and Clinton. Max has exhibited in over 40 international museums and over 50 galleries, worldwide. His work can be found in many prominent museum and private collections around the world.
Sorry, there are currently no items available for this selection.
Please contact a Barker Animation associate for additional assistance.