Tomasz Rut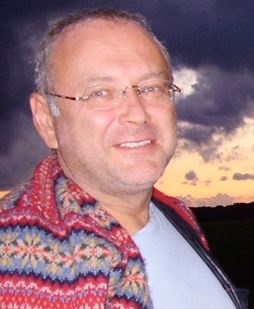 Son of Tadeusz, an Olympic athlete and Wanda, an artist and art teacher, Tomasz Rut was born in 1961 in Warsaw, Poland.According to the family tale, he was conceived during the 1960 summer Olympic Games in Rome, where his father proudly took a medal in hammer throwing, only a few miles away from the Vatican, where – serendipitously – his son delivered his artwork in front of the Pope to have them displayed next to such artistic giants as Michelangelo or Raphael, 50 years later.
Rut was raised in a cultural climate cautiously opposed to the bleak political and economic reality of the Soviet imposed duress in the post-war Poland, and encouraged to expand his viewpoints beyond the imposed official state doctrines and "collective thinking" by his well-traveled, educated parents, family friends and his first teachers.
Although fascinated by the athleticism and charisma of his father, Tomasz did not follow his footsteps, but instead, introduced to the world of art by his mother, took on to drawing and demonstrated prodigious talent since early childhood.At the tender age of eleven, his first drawings collected by his mother – frequently from his school notebooks – instead of satisfactory school grades – were exhibited at a solo gallery show, noted in a small write-up in the Warsaw Daily newspaper. Even at that early stage, the young artist's exploration – often satirical – of humanity and his search for an artistic expression, echoing a variety of classical themes and their modern renditions is abundantly clear.
Upon graduating from high school – one of the most venerable "gymnasiums" in Warsaw – Rut went on to compete with hundreds of contenders for the prestigious admission to the Warsaw's Academy of Fine Arts. Ironically, presented with the opportunity to visit and stay with his mother, who had earlier emigrated and settled in the United States, having passed the practical entrance exams with the highest score of all, he gave his place away and moved to New York, where he obtained his resident status in 1979.
Rut's first stay in America was relatively brief, but marked by the first hands-on encounter with the old masters and their art secrets. Invited for an apprenticeship with Prof. George Papadopulos at the Museum of the Hispanic Society of America in New York, young Tomasz became fascinated by the technical and aesthetic complexities of works by such masters as El Greco, Velazquez and Goya, which stood in a stark contrast to the licentious modernist approach he'd already begun to question.
After taking a couple of semesters at Columbia University, mainly to hone his language skills, he pursued formal art studies at Pratt Institute in Brooklyn, NY, but became soon discouraged with the curriculum lacking in-depth technical training and emphasizing the modern liberties of an artist. Despite being awarded the President's grant at the end of his freshman year, Tomasz decided to accept the Warsaw's Academy standing invitation to matriculate and moved back to Poland.
Choosing to investigate the purely technical aspect of art, Rut enrolled at the Art Conservation Department of the Academy, which combined the practical exercise of skills in drawing, painting and photography with a rigorous, scientific training in art technology, including chemistry and physics. In the course of his five-year studies, Tomasz became intimately familiar with all traditional easel and mural painting techniques and gained a profound knowledge of art history and its styles, graduating with a Master's Degree in 1986.
While continually drawing and painting in search of a definitive personal form of artistic expression, upon returning to settle permanently in the U.S., Rut initially employed his skills in the art conservation field, and moved from New York to work for the famed Biltmore House in Asheville, NC. Based at the Estate's conservation studio, he traveled throughout the Eastern U.S. to execute a variety of mural conservation project for such clients as the Smithsonian Institution and Treasury Department in Washington, DC, the State House in Trenton, NJ, the Library of Four Arts in Palm Beach, FL and the Society for the Preservation of the New England Antiquities in Boston, MA. Later, after he moved to South Florida, his projects included the Gusman Center for the Performing Arts and Villa Vizcaya in Miami, FL, the Florida State University in Tallahassee, FL and the Breakers Hotel in Palm Beach.
An unlikely romantic encounter with a 6'2" South Florida runway model, Judith Wecker, turned into Rut's first marriage – and the artist's renewed artistic inspiration. The newlyweds settled in West Palm Beach, FL and together opened a commercial art studio, which catered to interior designers and focused primarily on commissioned decorative projects for prominent Palm Beach and South Beach estates. Working at times with up to eight assistants on the challenging, vast scale, awe-inspiring interiors for such clients as Gianni Versace and a number of Forbes 400 richest Americans, and given a considerable degree of artistic freedom, Rut was able to start developing his own consistent artistic vision, and gained an extraordinary practical command of his painting technique.
Inevitably finding and formulating his own distinctive style and method of painting in the early 90-ies, Rut gradually abandoned commissioned work and devoted himself fully to his own art. Soon, as a result of several meetings with art agents and publishers, the artist's early artwork was published as limited editions and introduced in many U.S. galleries, including most of the international "floating" galleries on major cruise ships. Tomasz quickly gained recognition as one of the leading contemporary figurative painters. In 1999, the Robb Report magazine's Best of the Best issue named Tomasz Rut as one of the five most collectible living artists, among such distinguished names as Botero, Chihuly, Clemente and Hockney. Over the years, his artwork, also published in two retrospective, hard cover books, has reached many thousands of collectors from around the world, including celebrities, world leaders and museums.
In 2011, Tomasz Rut's paintings were officially included in the Vatican art collection by pope Benedict XVI – the event that the artist considers his paramount and personally significant accomplishment.
Today he paints at his studio in Hollywood, FL., a large extension of his residence, which he restored and remodeled, and showcased in several press articles. Creative in many ways besides his professional field, Tomasz enjoys architectural designing and interior decorating, working in his garden and gourmet cooking, featured in Miami Herald. He has hosted several collectors' events at his house, personally taking his guests on a tour of his studio and entertaining them with food and wine from his own kitchen.