Virgil Ross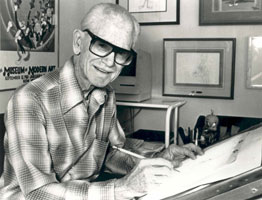 Virgil Walter Ross (August 8, 1907 – May 15, 1996) was an American artist, cartoonist, and animator best known for his work on the Warner Bros. animated shorts. His introduction to cartooning was in high-school, where he took a class in that art form. Early work was done for Charles B. Mintz (later Screen Gems), Ub Iwerks studio, and then on to Walter Lantz, where he began animation work. In 1935, he moved on to work for Leon Schlesinger at Warner Bros. where he spent about 30 years, first under Tex Avery's supervision, until 1942, then for Bob Clampett, and finally with Friz Freleng. His résumé also includes time spent with such firms as Filmation (where he worked on the early '70s Star Trek: The Animated Series), Hanna Barbera, and Marvel Comics. In 1979 he animated Woody Woodpecker for a special scene at the 51st Academy Awards.
He was notably self-effacing. In an interview with John Province in 1989, he is quoted as saying "I always had an eye for movement, and I think this kept me in the business a lot longer than a lot of guys, despite the fact that I really wasn't very good at drawing. When I started out in animation, you didn't have to be a good artist. I just had a little natural talent, and it's mostly just timing anyway."
Of the very many characters Ross animated, he is most closely associated with Bugs Bunny, but also did a great deal of work involving Daffy Duck, Yosemite Sam, Tweety, and many others, including Road Runner and Wile E. Coyote. When handling long-eared characters such as Bugs or Wile E., Ross occasionally tilted or waved an ear in otherwise-static scenes. As the animator for "A Wild Hare", generally regarded as the first appearance of Bugs Bunny, Ross had a first person view of the creation of the character.