Cliff Chiang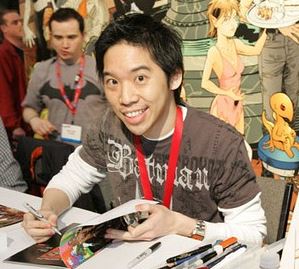 Cliff Chiang's artwork has been hailed for its "fluid and confident storytelling" and "sweeping linework and nuanced style." Graduating from Harvard University with a joint degree in English Literature and Visual Arts, he worked in editorial at Disney Adventures Magazine and Vertigo/DC Comics before making the leap into freelance illustration. Clients include DC Comics, GQ Magazine, Lucasfilm, Warner Animation, Dark Horse Comics, Dynamic Forces Entertainment, and the ACLU, on books such as:

"Batman", "Dr. Thirteen: Architecture & Mortality", "Beware the Creeper", "Human Target", "Detective Comics: Josie Mac", "Green Arrow & Black Canary", "Grendel: Red, White, and Black", "Red Sonja: Monster Isle", "Swamp Thing", "Wonder Woman"

He is currently working on DC Comics' Wonder Woman with writer Brian Azzarello. He lives and works in Brooklyn, New York.
Sorry, there are currently no items available for this selection.
Please contact a Barker Animation associate for additional assistance.